We strongly feel that theatre can be a great tool in introspection and sensitizing people towards social and personal issues. 
In today's world, many companies and organizations struggle with keeping up with the people factor due to increasing focus on financial aspects.Rea
lizing this, we undertook the responsibility to use our experience and knowledge in theatre and arts to communicate various softer aspects of life in a creative and innovative fashion.
Our dynamism and customized solutions, interactive shows, and activities work towards sensitizing people on inherent and deep-seated prejudices,  discriminations, and status quos and have helped many to have a third-person view of their own selves and their environment. 
India has been a culture of stories that have had a transformational impact on people for ages. This is the source and motivation of our initiative to utilize the arts in a way to present life beyond the seemingly endless situations of the present, which is much needed in an organizational structure today to make sure that the subtleties of life are not missed out but enjoyed. 
We have worked with many companies to spread awareness on various social aspects and made a change.
If you want to take a similar step for your organization, in looking beyond work but inside the self and people, connect to us. 
Let's make a difference.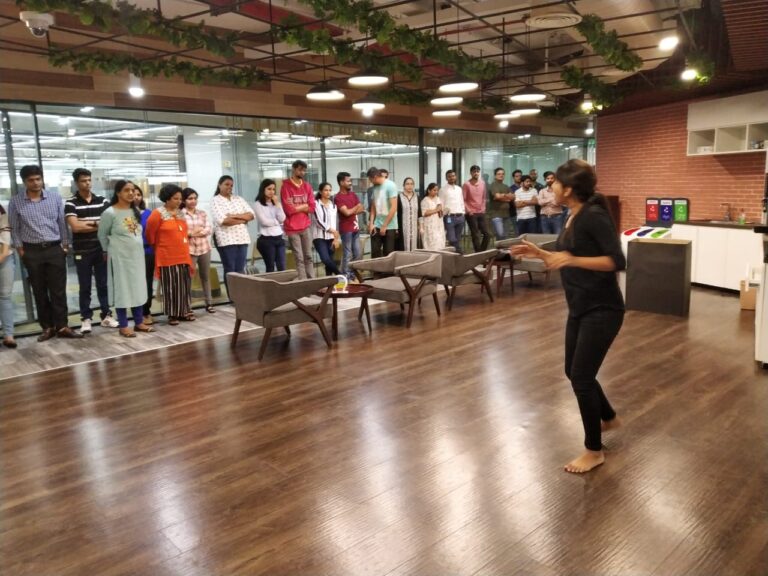 Customized performances and shows for corporates and business houses for sensitizing participants on delicate social issues facing the organizations effectively using theatre as a medium.
Hands-on, fun-to-do interactive activities-based course culminating in an effective curriculum easily adaptable by schools to teach and nurture children in various aspects through performance and creative art.
A full-fledged array of celebrated productions staged all over India calling for invitations for any type of events/festivals showcasing the various layers and colours of India to add more light to the occasion.
Creativity demands flexibility and we are always ready to provide our professional services to suit your requirement for your occasion to add a flavour of theatre and arts and make it a memorable experience to you and everyone.